One of the best American Airlines offer is soon to expire. The offer has been around for some time, but is due to expire on Halloween. This offer below however waives the annual fee the first year. It's not the standard offer, they usually offer. I know, a scary notion no doubt.  However, if you are on the fence about getting this American Airlines 60,000 miles offer, I would jump off the fence and get it before its gone.  No telling when it will return.  The Barclays Aviator AAdvantage MasterCard is offering a whopping 60,000 miles after your 1st purchase. There is NO minimum spend requirement AND the annual fee is waived for the first year. That's enough miles for a couple round trip coast to coast flights, or premium cabin redemptions, for domestic travel. I personally save these miles for premium cabin international travel, which can used on their partners, such as Qatar or  Etihad, or any OneWorld partners.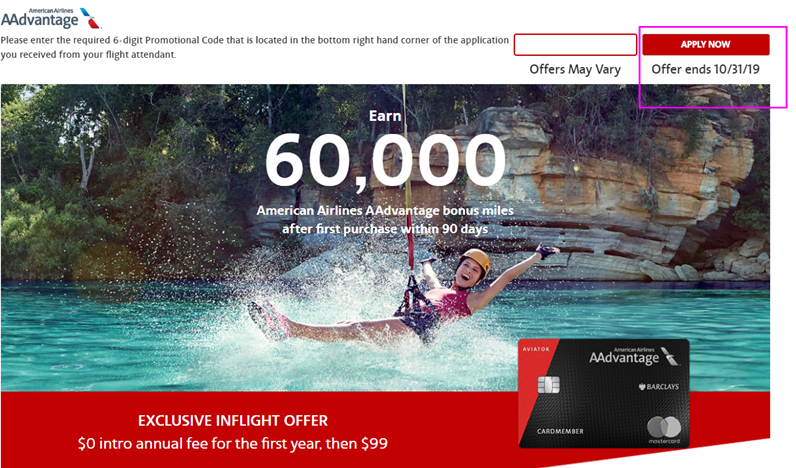 The card has some nice perks, which include priority boarding on American Airlines flights (not code-share partners). First bag free, for up to 4 people, and some new perks such as a $25 credit on inflight WiFi purchases, and an anniversary companion certificate for 1 guest at $99 + taxes. Its also a MasterCard, which gives you $10 monthy credit to use at Lyft.
Application Link – Annual fee Waived First Year
Application Link – Standard Offer with $99 annual fee
I had this card last year, so I wont be reapplying for it this time around.  I will however, get this for my wife, who has not had this card. As a family of 4, we need 2-player mode to accrue lots of miles for premium cabins.  Are you going to get this card? If so, what are your travel goals for the miles?  Happy Travels!