As I was on hold with Chase Ultimate Rewards Travel Center, to the tune of U2's It's a Beautiful Day, I just can't help to think it was not a beautiful day, at all. Last Friday, we were forced to cancel our family trip to the Seychelles.  A dream trip I have planned for the past year.   My daughter woke up a day before our scheduled departure on American Airlines, with a fever, and of course alarm bells went off.  My wife was concerned, as we were transiting through Abu Dhabi, and if the body thermal scanners caught this, we would surely be pulled aside and given a free two week un-wanted lodging stay.  Either way, a serious trip interruption, that outweighed any benefits at the moment.
I didn't purchase trip insurance for this trip, so I was banking on cancellations with full refunds.  The sucky part about this whole ordeal, like any award reservation trip, is it's a puzzle made of different pieces. I had to work on each puzzle one by one…but, not impossible.
In my case, I had air, and hotels, but they were all from different programs.  Here's the end results of my extensive long refund phone calls.
American Airlines AAdvantage:
We had booked 4 tickets using American Airlines AAdvantage miles to the tune of 75,000 miles per passenger in business class from Portland (PDX) to Mahe, Seychelles with a layover in Abu Dhabi (AUH).  Our routing was PDX-PHX-ORD-AUH-SEZ, and the return was a layover in Doha on Qatar Airways. That routing was SEZ-DOH-DFW-PDX, where we were destined to enjoy one of the best business class cabins out there right now – Q- Suites.  I guess that's not going to happen.  We got lucky as the agent waived all the fees, and redeposited the miles back onto the account, without penalty.  That's a savings of $150 per passenger for the redeposit fees. Total hold time for this call, 2.5 hrs.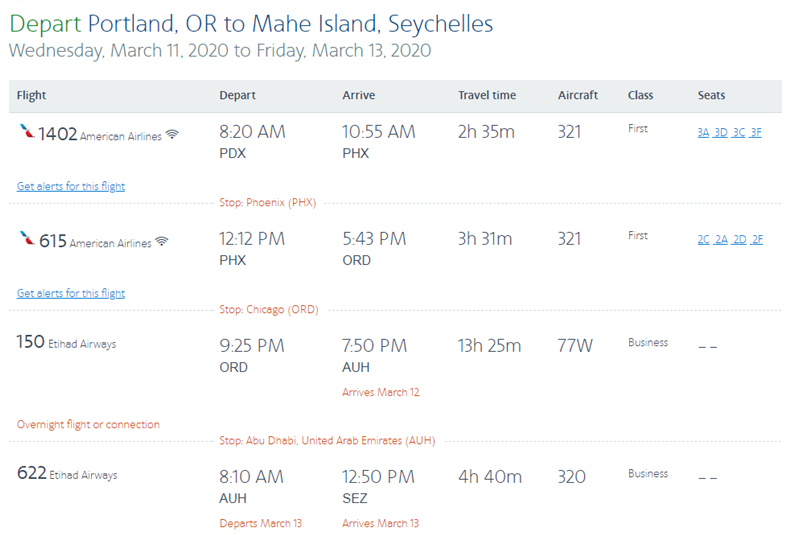 Chase Ultimate Rewards:
For our long layover in Abu Dhabi, I had opted for a night stay at the Premier Inn Abu Dhabi Airport Hotel.  I used Ultimate Rewards to stay here, and after calling the Travel Center help desk, and being on hold for roughly 1 hour while they conversed back and forth with the hotel in Abu Dhabi, only to tell me they put in a ticket for a refund.  Not sure what that means, but I am assuming I will have to call back just to follow-up.  Total phone time spent on this one : 55 min.
Hilton Honors:
We booked a 7 night stay using our Diamond benefits at the Hilton LaBriz Seychelles Resort and Spa.  Our cut-off date to refund/cancel was past, so I had to contact the hotel directly and talk to their manager.  Having done so, the only option given to me was to reschedule at a later date without penalty, but I am unable to do that right now.  I figured why not call them in early in the morning on my way to work. I decided to call the Diamond desk line, which showed up on my Hilton app, and the nice lady there was able to assist me in forcefully canceling the reservation and giving me back my points, with one caveat ; I may be charged for one nights stay.  She did however contest that. and wrote a ticket to their reservations team, to see if they can waive that.  She said the process can take up to 72 hrs for a response.  Total phone time spent 45 min.
UPDATE: did NOT get charged for the one nights stay.
Expedia.com:
I used a ton of points acquired from my Barclays Arrrivals+ World MasterCards, to offset a travel expense for Expedia, in which I used to book The CoCo de Mer Hotel and Suites on Praslin Island, Seychelles.  This was to be my second hop on Seychelles, and we were going to rent a car and visit the various beaches such as Anse Lazio and Anse Georgette.  Initially I was offered only 50% of my total expense for the reservation, and that was A LOT still.  My wife contacted Expedia directly, and they worked it out with the hotel and refunded ALL my money back to my Arrivals+ card.  Whew! This one was a big one, and I'm glad it was resolved.  Would've been a huge Debbie Downer, if I didn't get all my money back from this.  Total time on the phone ..3.5 hrs.
US Bank Flexperks:
We used about 45,000 Flexperks to book 4 intra-island flights from Mahe, to Praslin in the Seychelles on Air Seychelles.   I booked it through their travel center, and these guys so far have been the hardest to get refunded, as they keep giving me the run around.  These flights aren't until the 20th, so I will wait a few more days to attempt calling them.  We were on hold with them for over 4 hours, to talk to someone, only for them to tell us to call or contact Air Seychelles.  I emailed Air Seychelles under their guidance, and they replied back with instructing me to 'contact the travel agent who did the booking', as they couldn't refund it. I will of course follow up with this one, as soon as the stampedes are over in the coming days.

At The End of the Day….
It's been a mess all around for everyone and I'm glad we didn't end up going because, honestly it would've been a headache worrying about everything that's going on.  Half the fun of traveling on points is enjoying the journey to the destination, and that pretty much has fizzled out with this virus fiasco.  Im just very happy the programs all were flexible with refunds and coming through for their customers. I will wait until the smoke clears and reschedule our family trip for a later date. I've done all the research for the destination, so that will make things even easier when I do schedule it again.  Heck, my buddy Ivan Acosta, even hooked me up with some Seychellian Rupees to help me out upon arrival there. For now, the bag stays put, the passports back in the drawer, and the camera turns off….. Did any of you cancel your plans? What are your future travel plans now?